If you read my last blog post, you'll have seen that I am a big fan of a coat! And jackets, shackets, statement coats, blazers and everything in between! I don't know about you...but I just want a bit of cheering up on a chilly morning sometimes, and if a coat is enough to do that, then I'M IN!
When you're out and about on the commute, the school run, walking the dog or out shopping, coats are all people really see, so I believe it's worth spending some time at the beginning of the season looking for a great coat (or two) that suits your personality, your lifestyle and your body shape and that has the potential to make you smile. You could go for a bright colour, a bold print, or a fabulous texture - faux fur, teddy bear, velvet or boucle. Or maybe a classic trench coat, a Parka or a Puffa.
I'm not a fan of lists of things you must own (trench coats aren't for everyone), but I AM a fan of wearing what you love, what makes you happy and dressing to flatter your bodyshape.
So here are 7 COAT SHAPES TO FLATTER EACH OF THE 7 BODY SHAPES to help you find the perfect HAPPY coat.
The A shape has hips wider than shoulders, so you likely take a smaller size on the top and a larger size on the bottom. You have a slim waist, so show it off and follow the curves of your body. You just need to add a little shoulder detail to balance out your hips. Look for vertical details (like the pleats and seams here), and good shaping to highlight your waist. Trench coats can work well for A shapes too, especially if they have shoulder details.
The V shape is opposite to the A shape, hips are slimmer than shoulders. Therefore you need to avoid shoulder detailing or large collars (these drop shoulders are ideal) and balance out your shoulders with detailing at the hips. Patch pockets or horizontal lines at hip level all work for you.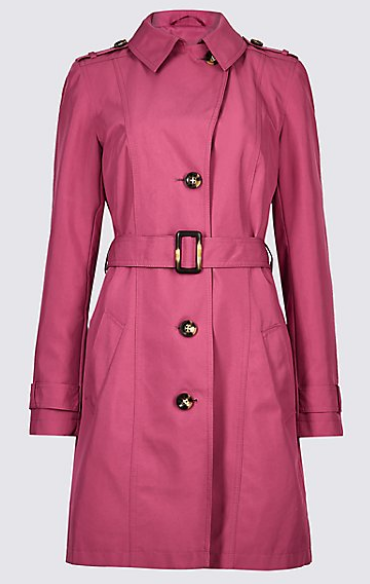 The X shape has a very clearly defined waist, hips and shoulders are the same. You may find that your trousers and jeans can gape at the waist. You really want to highlight your waist and follow your curves, so for you, the belted trench coat is perfect. Or any belted coat for that matter. You can even do double breasted. Here's a PINK one!
If you don't have a waist, you can still wear a trench coat, but wear it open and tie the belt at the back. This coat would work well for A shapes too.
The 8 shape is similar to the X shape - you have a waist but you have a high hip rather than the low hip of an X shape. Keep the silhouette slim and highlight your waist with a belt. Trench coats can also work for this shape as long as they are slim fitting - X and A shapes need to be careful of the patch pockets on this coat that may broaden the hips.
The I shape is a slim, balanced body shape without a defined waist. You wear the same size top and bottom and you can wear most things! The contrasting buttons on this double breasted coat create horizontal lines that broaden, so isn't ideal for some shapes. But I shapes can rock this yellow number!
The H shape is another balanced body shape - it's often mistaken for an X or an O shape and is often left out of body shape lists, but plenty of people are this shape. Avoid detail at the waist - belted shapes don't usually work (although it's always worth trying if you love something), so look for vertical and diagonal lines in pockets and buttons that will slim and lengthen.
The O shape is another balanced body shape and similar to the H shape but with a rounder tummy, so slimming vertical lines, skimming fabrics and no waist details are best. Bring attention up to your face with detailing or accessories, like this cowl neck - or with a scarf!
If you're unsure of your body shape, you could book a Style & Colour Consultation with me. You'll find out all about your unique personal style in this insightful 2 hour consultation - your style personality, your colours, body shape, body proportions, body variations, scale and lots more!
Or follow my Facebook page for lots more information and inspiration!